What is Recycled Fashion all about?
Recycled Fashion is a sustainable fashion blog dedicated to opportunity shops, charity shops, thrift stores, vintage stores, markets, garage sales, car boot sales, online stores and auctions to find those special recycled fashion wardrobe pieces. Showcasing recycled, vintage, upcycled and DIY fashion, sewing, eco-style, ethical fashion, second hand shopping tours, fair trade and general fashion chat.
Recycled Fashion is not just a personal blog, but a collaboration of sustainable fashion initiatives that have been sourced from around the world. You will find
blog polls
(place your vote), discussions, features on ethical online
retailers
, markets,
giveaways
, and much more. Guestposts and suggestions are welcomed.
Fashion does not have to cost the earth.. financially, or environmentally.
Who writes for Recycled Fashion?
Erica
Erica hails from the United Kingdom, and migrated to Australia in 2005. She studied Business & Finance, and Interior Design. Erica worked in the environmental research and community development sector for many years, which involved recruiting volunteers, and traveling to remote communities around the world.
When Erica is not writing and creating for her ethical fashion blog
Recycled Fashion
, she is also writing for the Melbourne column of
weekendnotes.com
, contributing to
Junkies Magazine Australia
, is the Editor in Chief for
KidTown Melbourne
, can occasionally be found teaching upcycling workshops around Melbourne, and most importantly, raising her young sons. Erica is one of the former founding Editor's of
Refashion Co-op
, and previously led op shopping tours (for Melbourne Op Shop Tours).
Erica is environmentally passionate, and believes that new style can be recreated from old. Rather than landfill our beautiful planet with fabric, she prefers to buy second hand clothing, refashion, and create her own outfits. Recycled outfits make fashion more sustainable, and fun.
Erica featured on national Australian TV; Coxy's Big Break in April 2011, the segment can be viewed
here
Please check Recycled Fashion's media page for Erica's upcoming events, talks and workshops.
(GRAB A BUTTON)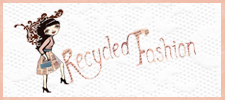 Regular Blog Feature:

You can contact Erica at erica (at) recycled-fashion.com.