Why did I decide to search for black and white Oxford aka Charleston tap shoes, and why did I find a pair of perfect, second-hand Charleston tap shoes
in my size
?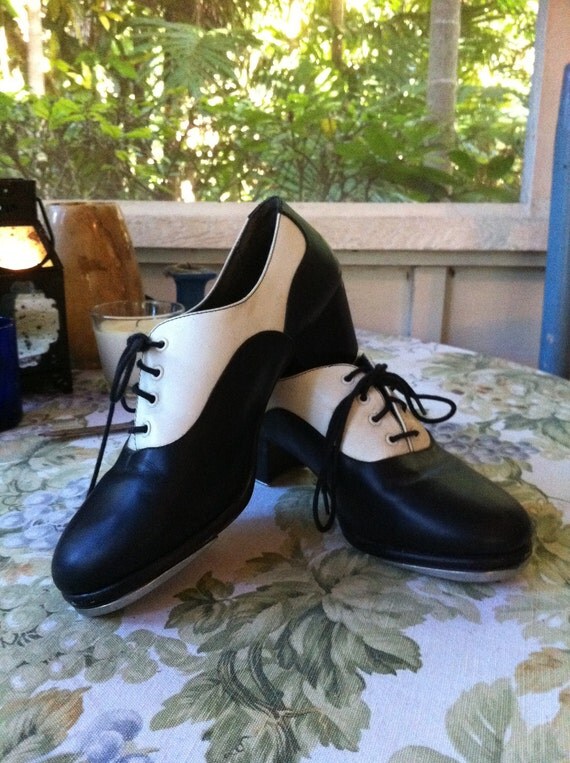 Is this fate, are they destined for my tapping feet?

I have not hit the buy button yet, but I do not feel any better for it! If I had not been browsing the net for said tap shoes today, I may not have found them, and would not be in this predicament; should I buy them, or
attempt
to forget them?
Reading this article
How to Resist Urges to Buy Useless Products
, I find their questions quite useful
:

Why Do I Want This Item?
I having been lusting over a pair of black and white Oxford tap shoes for approximately six months, having seen a fellow tap dancer purchase a pair on a trip to the US.
Do I Really Need This Item?

Absolutely not! I already own a pair of tap shoes, purchased second hand from eBay, and customised with glitter.

Will It Go On Sale For Less The Second I Buy It?



I doubt it, second hand after all?



Can I Get A Better Deal On It Elsewhere?



I doubt it, at $30 + $20 shipping, this is the cheapest I've seen



Do I Have Room In My Car/House For It?



Yes indeed



Shouldn't I Research It First?



Not so much to research about tap shoes, for a second hand pair, they look remarkably well kept

.

What Is The Retailer's Return Policy?



Not sure, but I doubt I'd pay to return heavy tap shoes overseas by mail



Why Does This Look So Familiar? (meaning are you sure you do not own a pair already?)



Tap shoes yes, Charleston tap shoes, no, no, no!



Am I In A Rush?



No?



Do I Have Enough Money To Pay For It?



I suppose so, but I

could

put that money toward something else?!




Whilst I leave you with Rogers and Astaire
(do you see the shoes??.. mind you, Ginger dances in HEELS)

I ask you this.. how do
you
resist the urge to buy something you don't really need? Do you have inner battles with yourself on potential splurge purchases, or do you find yourself at ease to say no to a spontaneous buy?