In my hands I have the most amazing
upcycled
beaded necklaces made by a group of 30 women in Kampala, Uganda called the Kind Mothers'
AfriBeads
program.
What is Upcycling?

Upcycling is the process of converting waste materials or useless products into new materials or products of better quality or a higher environmental value.
*Wikipedia
Upcycling Logo

This group of women are working to protect vulnerable children, children that are either orphans or have parents who cannot afford to send their children to school. Many millions of people live in extreme poverty in Africa, struggling to survive and look after their children.
AfriBeads are creating hope for Ugandan women and children by providing a market for the beautiful jewellery they make. With economic self sufficiency they can take control of their own lives.
These recycled magazine necklaces have been made by strips of magazines cut into trianlges, which are then rolled, glued and varnished. The detail and time that goes into making these necklaces is incredible. You would not know the beads were made from paper. Here you see the end result in close up:
Beads for Sale
I am particularly passionate about such initiatives which is why I aim to raise awareness through my blog. Not only are these necklaces a unique and beautiful fashion item, but they are environmentally sustainable, fair traded, and raise money for families deprived of monetary stability.
Below are just a a few examples of necklaces currently for sale: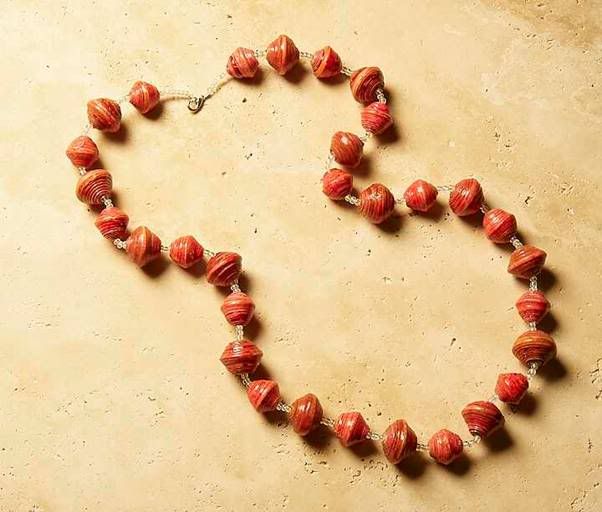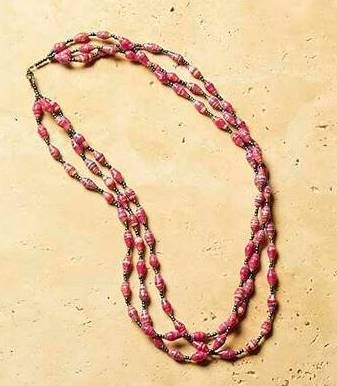 Please do
Email Me
if you are interested in buying these beautiful necklaces.
Thanks for reading this.